EXPECTED OUTCOMES
By the end of this Strategic Plan, the following outcomes are expected:
Scholarships will be given to 3000 African students.
The establishment and development of African Peace Polytechnic Project, which will facilitate academic education and empowerment.
A strong and effective empowerment system drive in place annually, with an integrated delivery of 2000 widows, and 3000 elderly persons being empowered with skills acquisition, purchase of equipments and direct support with food, medical items and cash.
Improved provision of targeted services by mainstreaming into other providers and encouraging a focus on empowerment, sustainable development and mentorship opportunities
The creation of more partnerships between Inter-Governmental Organizations, CBOs, NGOs FBOs and African women, with a view towards an improved standard of living and access to appropriate legal and reproductive information, socio-economic resources and political representation
An increased representation of African women in civic, economic, social and political structures with a shift towards skills training and economic independence.
TARGETED AUDIENCE
APF operates in different parts of Africa and assemble groups from different socio-religious, political, and econo-cultural background.  APF target youths, groups including program beneficiaries and strategic partners. In its thematic priorities, APF works directly with communities affected by conflict as well as organizations involved in conflict resolution and peace building as well as establishing Academic institutions.
Our programs and activities are essentially geared towards helping youths all over Africa make quantum leap between societal social strata. And to achieve this it is important to engage widely for effective impact; From Public and Communities, Educational institutions,  policy makers, and NGOs, CSOs, CBOs and FBOs
PUBLIC & COMMUNITIES
We engage the society, urban communities to the rural villages and hamlets, by orientating them on peaceful coexistence and how to resolve conflicts as well as empowering them financially and provide them with relief items.
 We work to promote peaceful coexistence, social change on a broad scale and to a large extent affecting the lives of the local people. We play a critical role in developing society, improving communities, and promoting citizen engagement and participation. Our teams possess the experience, skills and capacity to help resolve misunderstandings disputes or conflicts resulting from communal, families and societal clashes through mediation, intense mentorship programs, leadership workshop, skill acquisition, seminars, conferences, summits and career employability hangouts.
Educational Institutions
According to United Nations, despite the fact that primary education is compulsory in Africa over 120 Million School  Aged children are out of school, while over 142 Million youths are roaming the streets without gainful admission for lack of sufficient facilities. Education deprivation in Africa is driven by various factors including economic barriers and socio‑cultural nuances and practices.
Our aim is ensuring that education is provided for the youths of school age in Africa to close gaps that separate the poor and the more advantaged poor.
Hence, we establish Academic institutions and admit youths from the public whose parents are not opportune to send them to school and offer them full scholarships as well as offering scholarship to other youths to attend other tertiary institution.
Policy Makers
We carry out advocacy to sensitize youth's, women, widows and the elderly on ways and manner to eliminate youth restiveness and ensure that they imbibe peace culture. While we empower women, widows and the elderly monetarily and entrepreneurship equipment as well as caring for the elderly materially and monetarily  issues and channel the outcomes to policy makers so as to guide policy direction to help chart a new course to ensure youth mobility and advancement.
NGOs, CSOs, CBOs and FBOs
We continue to seek for engagement and partnership with Nongovernmental Organizations (NGOs), Inter-Governmental Organizations, Government Agents, Civil Society Organizations (CSOs), Community Based Organizations (CBOs), and Faith Based Organizations (FBOs) as they play key roles in addressing societal issues. Indeed, drawing expertise and experience of other Organizations.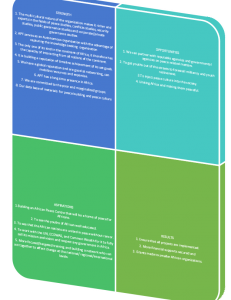 OPERATIONS
The Operations arm of APF provides support services in the areas of conflict resolution, educational institution operations, finance, human resources, fundraising, grants management and development, Information technology, facilities and general administration. To promote efficient service delivery and to provide operational effectiveness, the Department will seek ways to ensure effective implementation of projects and programs.
The department will also institute well-built operations system and respond to the emergent needs of project management and accountability, accounting and internal administration.
The department will be responsible for managing most of the foundation's core systems. In order to optimize our system for efficiency, we seek to automate all processes. The definitive goal is to have an established system that covers all the operations at APF.
MAJOR PERFORMANCES
Our major operation since the inception of the establishment of the African Peace Foundation had centered on the ways and manner to pursue vigorously the aims and objectives of which the foundation was established. However, the under listed achievements have so far been recorded with the help of our able Trustees and the Executive committee members.
ELECTORAL OBSERVATION
We monitored and observed the 2003, 2007 and 2015 Federal Republic of Nigeria's General Elections from 1000 to 5,000 domestic observers per election spread across the 36 States of the Country including the Federal Capital Territory.
Prior to these General Elections, we embarked and conducted civic education on how to curb electoral violence in many States, Nasarawa, Niger, Kogi, Kaduna, Ogun, Osun, Anambra, Enugu, Ebonyi, Imo, Abia, Cross River, Rivers, Ondo, Delta, Bauchi, Jigawa, Benue, Plateau,  Akwa Ibom and Ekiti States etc. while in 2007, our tentacles were spread to cover the six geopolitical zones.
PEACE BUILDING AND CONFLICT RESOLUTION
We have on several occasions held meetings, forums and dialogue with community leaders to orientate and re-orientate them on their roles on how to make their subjects live in peaceful co-existence with one another especially in Zaki Biam in Benue state, Asara Community in Nassarawa state, Ilaje/Ese Odoin Ondo state,  Modakeke/Ife in Osun state, Aguleri and Umuleri in Anambra state, Takum in Taraba state, Warri and Yenegoa both in Niger Delta, Jos in Plateau state etc.
We make regular consultations and dialogue with African leaders, community leaders, Traditional Rulers, Religious leaders and conflicting parties for normalization of peace in Africa.
We organize peace seminars, workshops and forums to educate and re-orientate the public on ways and manner to achieve peaceful resolutions through diplomatic approach in e.g.
Diplomatic Approach to conflict resolution in Africa had been held in four countries.
Seminar on Modern Approach to conflict resolution in Africa.
Workshop on Youth empowerment in Niger Delta.
Seminar on Legislative Peace Maintenance.
Curbing Domestic Conflict.
National Workshop on curbing financial crime.
Curbing Electoral Violence etc.
HUMANITARIAN RESPONSIVE GESTURE
Our passionate care for Refugees, homeless and displaced persons has been met and demonstrated severally by presentation of gifts items in cash and kind to show the magnanimity of African Peace Foundation in all the major Refugee camps in Africa.
We mobilized one hundred volunteers from one country to another to produce a data of victims of any kind of crises or war anywhere in Africa in order to provide for them medically, in cash or kind including widows, orphans, handicaps etc.
We responded