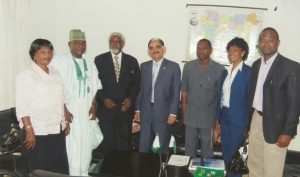 Our major performances since the inception of the establishment of African Peace Foundation centered upon the ways and manner to pursue vigorously the aims and objectives of which the foundation was established.  However, the under-listed achievements as recorded so far were with the help of our able Trustees, Executive Council Members, local sponsors, collaborating partners and peace loving individuals.
We monitored and observed the 2003, 2007 and 2015 Federal Republic of Nigeria's General Elections with 1000 observers per election spread across the 36 States of the Country including the Federal Capital Territory.
Prior to these General Elections, we embarked and conducted vigorous voters' education on how to curb electoral violence in the five states  Nasarawa, Niger, Kogi, Kaduna and Ekiti states while in 2007, our tentacles were spread across four geopolitical zones namely  South South, South East, South West and North Central.
We have on several occasions held meetings, forums and dialogue with community leaders to re-orientate them on their roles on how to make their subjects live in peaceful co-existence with one another especially in Zaki Biam in Benue state, Asara Community in Nassarawa state, Ilaje/Ese Odo in  Ondo state,  Modakeke/Ife in Osun state, Aguleri and Umuleri in Anambra state, Takum in Taraba state, Warri and Yenegoa both in Niger      Delta, Jos in Plateau state etc.
Our passionate care for Refugees, homeless and displaced persons has been met and demonstrated severally by the presentation of gifts items in cash and kind to show the magnanimity of African Peace Foundation in all the major Refugee camps in Africa. We have carried out research works to unravel the remote and immediate causes of conflicts and crises   in Niger Delta and Jos in Nigeria, Freetown  Sierra Leone, Bouake and Adjime  Cote D`Ivoire, Central Congo  DRC, Darfur  Sudan, D'jemena  Chad, Palestine, Israel,  Lebanon and Syria in the Middle East as well as  Guinea Bissau etc in order to proffer solution.
We make regular consultations and dialogue with African leaders, community leaders, Traditional Rulers, Religious leaders and conflicting       parties for normalization of peace in Africa.
We organized peace seminars, workshops and forums to educate and re-orientate the public on ways and manner to achieve peaceful resolutions through diplomatic approach e.g.
Diplomatic Approach to conflict resolution in Africa had been held in four countries.
Seminar on Modern Approach to conflict resolution in Africa.
Workshop on Youth empowerment in Niger Delta.
Seminar on Legislative Peace Maintenance.
Curbing Domestic Conflict.
National Workshop on curbing financial crime.
Curbing Electoral Violence etc.
We yearly organize "AFRICAN PEACE LEGEND AWARD" to reward deserving leaders and Heroes of our time who contributed immensely to the peaceful co-existence of Africa,  some  of them who also laid down their lives for the cause of peace e.g. Dr Nelson Rilohilahla Madiba Mandela, former President of South Africa awarded Grand Peace Legend   in 2004, President Muammar Gaddafi, the Great Leader of People`s Libyan Arab Jamahiriya  Peace Legend 2006, Chief Gen. Olusegun Obasanjo (Rtd.) GCFR  Grand Peace Marshal 2005, Pope John Paul II (Post-humous Award)  Grand Peace Legend, Koffi Annan  Peace Pacifist  2006, Arch Bishop Desmond Tutu  Peace Mercurial etc.
In our effort to unravel the remote causes of conflict and crises globally,   we have written a 860 page compendium called "Middle East Crises" in two volumes, (a custodial of intellectual heritage) that traced the genesis of the crises in the Middle East especially that of Israel and Palestine to the present day road map.
Our 467 page book titled; "PEACE CULTURE" a monumental evidence for global co-existence in a new world peace order is aimed at conflict resolution, providing A – Z mediation, and laying a solid foundation for global peace building is a manual for all.
Our skill acquisition programme aimed at minimizing the influx of refugees in various Refugee camps in Africa has been a pet project of     African Peace Foundation since inception.  This training programme was carried out in Ghana, Ethiopia, Sudan, Niger Republic, Uganda, Nigeria (Oru Camp) etc. crises and wars, we mobilized one hundred volunteers from one country to another to produce a data of victims of any kind of crises   or war anywhere in Africa in order to provide for them medically, in cash or kind including their widows, orphans, handicaps etc.
In our contribution to world peace development, peace building and good governance, we embarked on a two year research and produced an economic road map called "Obasanjo reform".  An eight hundred  page compendium from one sector of the economy to the other.
Our WORLD PEACE CONFERENCE is yearly organized in Africa from one country to the other as an academic research confab that is  aimed at producing a blue print for stability, economic development,  democratic sustainability and Universal Culture for Peace and Development.
THE MEDIATORS:  In our strategy to resolve impending conflicts,   African Peace Foundation since 2009 has been running a mediation programme on Federal Radio Corporation of Nigeria (FRCN) titled:  "The Mediators".  On this forum, issues on peace and conflict resolutions are discussed.  This is in addition to a jingle running on air to condemn violence and promote peace.  The airing of this jingle   on radio, we plan to expand from one country to the other from 2011.